Sunday Menu
To Start
Soup of the Day (V/GF)
Home made Chicken Liver Pate served with Sourdough Toast
Main Courses
Crickhowell reared Roast Beef with Seasonal Vegetables, Homemade Yorkshire pudding,  Homemade Gravy and trimmings.
Crickhowell reared Roast Pork with Seasonal Vegetables, Homemade Gravy and trimmings.
Homemade Nut Roast served with Seasonal Vegetables, and  Homemade Vegetarian Gravy. (V/GF)
Desserts
Sophie's seasonal Cheesecake
Sticky Toffee Pudding
Sticky Ginger Pudding
Seasonal Fruit Crumble
Warm Homemade Chocolate Brownie served with Chocolate Sauce
All the above are served with a choice of Vanilla Ice cream, Cream or Vanilla Custard.
1 Course £14.00
2 Courses £19.00
3 Courses £23.00
Children's Menu
(Under 10 years)

A half portion of Beef, Pork or Nut Roast with seasonal vegetables, trimmings and Homemade Gravy.
Sausage and Chips.
Pasta with Pasta sauce.
For After
Ice Cream- Vanilla, Chocolate or Strawberry
 £7.95
 If a child wishes to have a different pudding from the Main Menu, then a further charge of £4 will be added making £11.95 in total.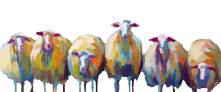 The Farmers Arms
Cwmdu
Crickhowell
NP8 1RU
We are located directly on the A479 in the village of Cwmdu, about 3 miles from Crickhowell.
Our GPS coordinates are DMS N51° 54′ 22″ W3° 11′ 36″ or DD 51.9062  -3.1933